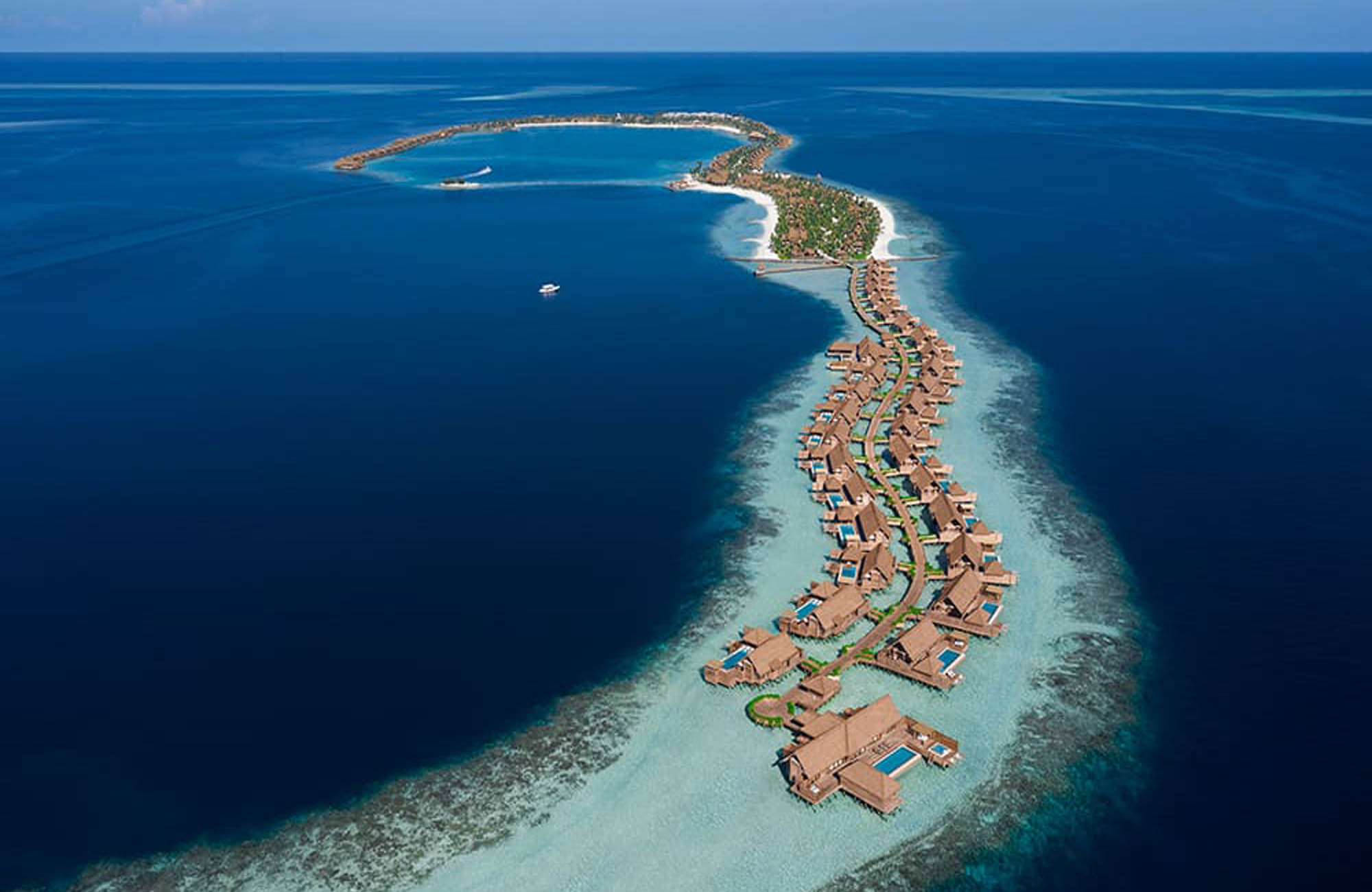 5 Star Luxurious Maldives Waldorf Astoria Resort
The Maldives already has some of the world's most luxurious resorts, but a new Waldorf Astoria resort is set to elevate the island nation's luxury offerings even further. Villas with private infinity pools start at £1,400 a night ($1,800) at the Waldorf Astoria Maldives Ithaafushi, which opened recently on three islands and spans three islands. However, the most exciting portion is still to come. In addition to arriving in elegance aboard the resort's own yacht, guests are not required to wait for an airport transportation.
In addition to a huge deck with uninterrupted views of the Indian Ocean or direct access to the beach, beach, reef, and overwater villas all have direct access to the water. Guests can wake up with sand between their toes.
Holiday makers looking a private refuge can book a stay on the resort's private island, which is only accessible by boat, for an additional fee. The 32,000-square-metre hideaway includes a four-bedroom condominium, a three-bedroom beach villa, and a two-bedroom overwater villa, among other accommodations.
An overwater spa and gym, five swimming pools, and an entertainment center are among the amenities available on the Ithaafushi Private Island, which also includes a personal chef and concierge staff.
When it comes to dining, guests will be spoiled for choice thanks to the resort's culinary offerings, which include no less than 11 specialty dining places. The Ledge, the island's barbeque grill restaurant, has welcomed world-renowned chef Dave Pynt, the brains behind Singapore's Michelin-starred Burnt Ends, to the island's barbecue grill restaurant.
The restaurant is equipped with his unique four-ton dual-cavity oven and elevation grills, which allow for techniques such as smoking, slow roasting, baking, and grilling. The Ledge, which introduces culinary theatre to the Maldives, allows guests to see their food being made, including popular dishes such as the Dry Aged OP Rib, a 45-day dry-aged beef rib, and the signature signatu rib, among others.
Another notable dining destination is Terra, which is located on the island's highest point and offers a'special culinary dining experience' in private dining pods constructed of natural bamboo. Terra is also a popular wedding venue.
With a rustic wine cellar and dining experience set among boulders, The Rock is an ode to renowned wine areas throughout the world, with a menu that pays homage to these locations. A wine matching dinner or an upgraded dining experience with a cuisine that pays respect to famous wine areas from around the world will be available to guests at The Winery.
In contrast, Yasmeen delivers traditional Middle Eastern cuisine to her patrons at her restaurant. Hot pitas and puffed breads made in ovens with centuries-old designs, charcoal-roasted meats, and hot and cold mezzes are served in dining rooms ornamented with ornamental artifacts and antiques, as well as hot and cold mezzes.
In addition to Glow, which is situated in a greenhouse-like structure shrouded by rich foliage, the immersive experience continues with Glow 2. It pays homage to the concept of immersive garden-to-table eating by serving balanced and comprehensive cuisine cooked with fresh ingredients sourced from the island's vegetable garden.
The Waldorf Astoria Spa, which offers a choice of therapies in the solitude of an overwater or garden villa, would be ideal for those who like a healthy lifestyle. Furthermore, a wellness center, a water sports center, and a PADI dive center are all available, in addition to a selection of bespoke experiences, such as private sunset dining and morning meditation.
According to Alan Watts, president of Asia Pacific Hilton, "Asia Pacific is experiencing a golden age of travel, and the launch of the Waldorf Astoria Maldives Ithaafushi is part of the rising momentum of Hilton's luxury and lifestyle portfolio in the country." "Asia Pacific is experiencing a golden age of travel," Watts said.
For additional information, please visit Maldives Holiday Offers, where you will also find the best guaranteed rates.